About
Moghadam Family Dentistry
in Canton, GA!
Our office is proud to offer comprehensive care to patients of all ages, from babies to teens to grandparents. Our lobby has complimentary beverages that you are free to enjoy before or after your visit, and we have TVs in our lobby and treatment rooms to keep you and your family entertained. If you are looking for a dentist in Canton that speaks Farsi, our team will be happy to accommodate you. If there is anything else we can do to make your visits with us more enjoyable, please just let us know!
Contact Us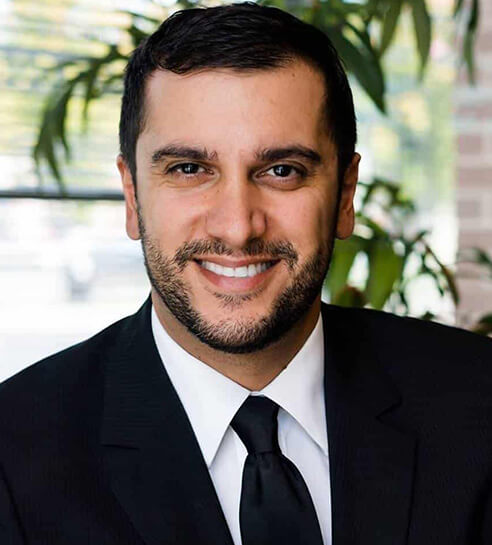 Meet

Dr. Mo

Dr. Poya Moghadam is a native of South Carolina. He completed his Bachelor of Science degree in biological sciences at Clemson University in 2003. He then earned his Doctor of Dental Medicine degree at the Medical University of South Carolina in Charleston, SC, in 2007.

Dr. Mo has been practicing in Cherokee County and has dedicated himself to providing his patients with quality dental care. He lives by a very simple philosophy: "Treat every patient like they are a family member." By following this rule, he has been able to provide his patients with quality work and maintain high ethical standards.

Dr. Mo sponsors numerous local teams and tries to be very involved with the community. He is excited to serve the needs of you and your family!
Advanced Dental Technology
Keeping our services efficient and productive requires state-of-the-art dental technology. We utilize digital X-rays and panoramic X-rays to get a clear picture of a patients' teeth and how they are situated in the jaw. We also use intraoral cameras to get a better view of a patient's teeth and gums, and patients can also see what we see on the computer screen. We strive to offer same-day treatment post-diagnosis whenever possible as well to keep visits both productive and convenient.
Same-Day Emergency Care
Not every dental office offers prompt emergency dental care, but our team can help you or anyone in your household when you need us most. Simply give our office a call, and we will offer advice over the phone and then begin preparing a treatment room. Dental emergencies can range from a throbbing toothache or dislodged tooth to unusual gum swelling or bleeding to a dental abscess. While we hope you'll never have to see us for a dental emergency, we are always available to assist if necessary.
Contact Us